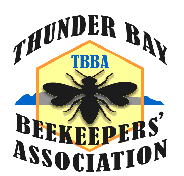 Benefits of membership
Members Only section
One of the many benefits of membership is our Members Only section. This section is full of timely articles designed to help members get the most out of beekeeping. Tips so you can make certain you are doing everything you can to keep your hives productive and healthy. The section also includes information on our upcoming events and workshop activities, as well as minutes of the meetings. As a member, your password is available at the bi-monthly meeting, or by contacting the secretary.
Material to be included in the newsletter should be sent to the Association.
Members' reference library
The Association maintains an ever-growing reference library through the Thunder Bay Public Library system, Brodie Street branch, for its membership. We have assembled an interesting and practical collection of books, magazines and videotapes on the subject of beekeeping. Bound copies of the American Bee Journal are also available at the Brodie Street library.
Use of a Refractometer
A refractometer is a useful tool to measure the moisture level in honey. The use of a Refractometer and instructions for its use, are available to members. Contact to arrange to borrow it.
Mentor program
There is nothing more helpful when you are getting started in beekeeping than having access to someone who might know the answers you are looking for. With this in mind, the Thunder Bay Beekeepers' Association has established a "Mentor Program" to provide some hand-holding and moral support to those members just getting started. If you are a Thunder Bay Beekeepers' Association member, please feel free to call on the Thunder Bay Beekeepers' Association mentors. They are ready and able to provide you with a helping hand. For information about Thunder Bay Beekeepers' Association Mentors in your area contact us.
Workshops
As a member of the Thunder Bay Beekeepers' Association, you will be invited to attent a special workshop in July, and others conducted following meetings throughout the year. Contact us for more information.
Bulk Buying
TBBA makes bulk purchases throughout the year and saves on shipping. Examples include: Mite-Away Strips, packaging, supplements, hive equipment, etc.
Email Alerts
When you are a Thunder Bay Beekeepers' Association member, special emails alert you to news, articles and events of interest to beekeepers. Be sure you list your email address on your membership form.
To join
The Thunder Bay Beekeepers' Association, attend the next meeting, contact us.
or print and complete the membership application form (pdf).